We can provided estate agents boards to any size, single or double sided and most shapes at very competitive prices, with no minimum order.
Ideal for instore shop displays, printed on cost effective material such as corrugated board or 2mm display board, it is an ideal way to get your display to stand out or promote current in-store offers.
Printed onto either foam-centred or 2mm display board and with struts applied to the reverse, these are ideal for counter top advertising or promotions. Standard sizes range from A4 to A2 but bespoke sizes can be catered for too.
Printed in full colour on a range of different materials including 440gsm, 550gsm, mesh, light block and double sided, our banners are supplied hemmed and eyeleted with a choice of brass or nikel.
We supply a wide range of different stocks including gloss, satin, matt, tearproof and blueback printed in full colour with the option of lamination.
Bespoke Wallcoverings & Murals offer unlimited creativity. Our wallcoverings and murals are printed to specified sizes and tailor-made to meet the needs of your home or office environment. Printed onto durable matt or semi-gloss self-adhesive paper which can be applied to any available wall space.
Available in many different adhesives and finishes to suit your particular needs. Over laminates also available.
Printed direct onto your choice of panel from 2mm card to 18mm pvc and if required with Velcro applied to reverse.
Fine art prints onto watercolour or heavyweight paper hi-res and supplied in a mount if needed.
Printed, laminated and mounted onto a choice of 5 or 10mm black or white pvc board and supplied with 10mm offset fixing kit.
Printed and applied to the reverse of the acrylic with polished edges and the option of drilled holes and chrome or satin wallmount fixings.
Printed onto a fine art super white cotton canvas and stretched round a natural wooden frame available in standard, premium or gallery thickness bars.
Printed at a high quality onto a 260g satin photo paper with the option of lamination, framing and mounting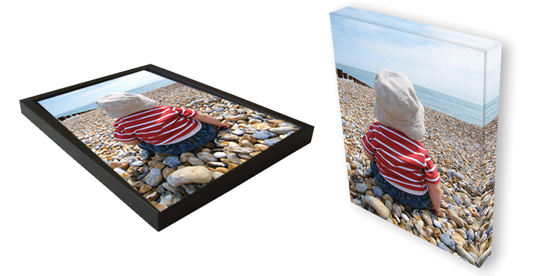 Printed either on photo paper or canvas then mounted to lightweight board and placed in an unglazed frame which gives the impression of floating on the wall, these are slowly becoming the most popular choice for hanging photos.